Semi-Truck Accidents Attorney in Illinois and Wisconsin
Semi-Truck Accidents
Accidents involving a semi-truck and a car present an obvious mismatch in size, and the results are predictably bad for the occupants of the normal size vehicle, frequently resulting in very serious injury or even death. Lengthy hospitalizations and extended absences from work can factor into such cases, as well as permanent impairment and disfigurement, all of which are a part of the victim's compensation damages and need to be properly documented and claimed.
Have you been injured in a Wisconsin or Illinois truck accident? Contact Alexander J. Smith Law Offices to discuss your accident today!
Semi-trucks and other large commercial trucks travel on the roads and highways throughout both Wisconsin and Illinois on a daily basis. While interstate truck commerce is certainly good for the economy in Wisconsin and Illinois, it sometimes comes at a cost. When one of these massive vehicles is involved in an accident with an average-sized passenger vehicle, the occupants of the passenger vehicle are more likely to suffer devastating injuries or even death.
Catastrophic truck accidents happen in seconds and can be caused by a variety of different factors. The causes of these accidents can involve a truck driver who lacks the necessary experience needed to operate a vehicle of this size, a sleepy or fatigued driver, a mechanical issue, or a driver who has chosen not to obey the traffic laws. When a truck driver is to blame for the accident, legal help for the victims is a must.
Hiring a qualified and experienced truck accident lawyer to represent you in your personal injury claim is the best decision you can make after being seriously injured in a truck accident. The attorneys at Alexander J. Smith Law Offices have more than twenty years of personal injury law experience. We have negotiated millions of dollars in injury claims for our clients in the past two decades and we can help you too. Call us today to discuss the details of your truck accident and determine if you have the right to pursue a personal injury lawsuit.
Truck Accidents in Wisconsin and Illinois
From our country's major interstates to our two-lane rural backroads, trucking accidents are an all too common occurrence in Wisconsin and Illinois. In 2017, Wisconsin reported that 839 vehicles were involved in fatal collisions. Out of those 839 vehicles, 76 of them were large trucks. Tractor-trailer accidents, as well as accidents involving other oversized commercial trucks, frequently end in catastrophe. These accidents have an increased potential to result in critical injury or death.
The personal injury attorneys at Alexander J. Smith Law Offices have been representing injured victims in Wisconsin and Illinois for over two decades. We strive to achieve fair and full financial compensation for injured victims in Wisconsin and Illinois who have sustained serious injuries as a result of truck accidents.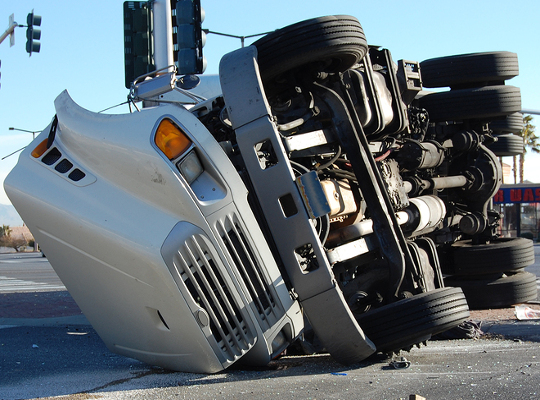 Most Common Types of Truck Accidents in Wisconsin and Illinois
Listed below are the most common types of truck accidents in Wisconsin and Illinois:
Head-on Collisions: This kind of accident takes place when a motor vehicle collides head-first with another motor vehicle. The physics involved in these kinds of accidents are very likely to leave their victims with injuries that are catastrophic in nature and frequently result in fatalities in the smaller vehicle.

Jackknife: Jackknifing is the term used to describe the position of a truck when its trailer folds over at the hinge, causing the cab of the truck to form an acute angle. Common reasons for a truck ending up in this position include skidding and hard braking.

Under Ride: This type of accident occurs when a tractor-trailer stops unexpectedly, allowing any smaller cars or pick-up trucks behind it to slide underneath the rear of the trailer. This kind of truck accident is easily one of the most brutal and can result in the decapitation of the occupants in the car.

Truck Rollovers: Oversized trucks are extremely top-heavy, so they are more prone to tipping over. This means if there is inclement weather or a truck driver fails to maintain control of his rig, it could possibly overturn and land on its side, causing it to skid across the roadway, crushing everything in its path.

T-Bone: T-bone accidents are typically the result of a driver running a stop sign or a red light at an intersection and, as a result, the front end of one vehicle crashes into the side of another. When this occurs in the context of a truck driver's negligence, the smaller vehicle often will underride the trailer, causing serious injury or death.

Lost Loads: When the payload of a commercial truck is not loaded and stacked properly, or the payload is not tied down correctly and secured to the trailer, the load is able to move around or fall out of the trailer altogether. This can create serious havoc for the other drivers who are unfortunate enough to be sharing the road with an improperly loaded or unbalanced tractor-trailer.

Blind Spots: As it refers to a vehicle, a blind spot is an area surrounding the car that cannot be seen clearly by the truck driver. With bigger vehicles come bigger blind spots. If a truck driver unknowingly decides to change lanes when a vehicle is in his blind spot he could merge into the other vehicle, potentially crushing it against a median, pushing it off the roadway, or otherwise causing the smaller vehicle to lose control. An accident that occurs because a vehicle is in a truck driver's blind spot is no excuse; the driver of the truck has a duty of care and is still liable for resulting injuries.

Rear-End Collisions: When commercial trucks are involved in a rear-end collision with another vehicle, their immense weight and size create a particularly destructive and violent situation.

Wide Turns: A wide turn, also referred to as a swinging turn, occurs when a truck driver swings his rig left in an attempt to execute a right-hand turn. While performing this maneuver, the tractor-trailer can hit stationary cars on its right side in the oncoming lane. Such accidents are generally of a lower speed than other truck accidents, but the size of the vehicle can still create a lot of destructive energy.
Common Causes of Truck Accidents in Wisconsin and Illinois
No two truck accidents are exactly alike. Truckers out on the road encounter a lot of different elements that have the potential to cause an accident. Some of the most common causes of truck accidents in Wisconsin and Illinois include:
Inattentive driving

Failing to check blind spots

Following too closely

Driver exhaustion

Debris in the roadway

Brake failure

Speeding

Improperly secured freight

Driving recklessly

Unprofessional driving behavior

Loose and/or shifting freight

Drifting into other lanes

Tire blowouts

Inclement weather

Cell phone use

Inferior road maintenance

Driving under the influence
The attorneys at Alexander J. Smith Law Offices have access to accident reconstruction experts who can recreate, examine, and analyze accidents involving semi-trucks and other large vehicles. There are regulations in Wisconsin and Illinois specific to the trucking industry promulgated by the Federal Motor Carrier Association and the Department of Transportation which may have an impact on the liability issues in your case. If you have incurred injuries that are the result of a collision with a commercial truck, contact us today to schedule a free and confidential, no-obligation consultation.
Commonly Reported Injuries in Truck Accidents in Wisconsin and Illinois
Due to the fact that tractor-trailers are much larger than any other type of motor vehicle on the road today, the consequences of their accidents are often much more severe. When accidents involving large trucks take place, they can inflict devastating and sometimes even fatal injuries to those unfortunate enough to be in their way.
Some of the most common injuries that result from truck accidents are as follows:
Involuntary amputation of one or more limbs

Internal injuries such as internal bleeding, or pneumothorax

Lacerations of the liver and/or spleen

Bones that are fractured, broken, or shattered

Injuries to the neck and back

Skull fractures and penetrating head wounds

Injuries to the torso such as broken ribs

Damage to the spinal cord including paralysis

Third and fourth-degree burns, disfigurement

Traumatic brain injuries

Lacerations

Death
A commercial truck towing a trailer that is loaded to capacity can weigh as much as 80,000 lbs. The average passenger vehicle only weighs about 3,000 lbs. A passenger vehicle is obviously no match for the much larger and heavier truck and catastrophic injuries to the occupants of the passenger vehicle are the most likely result.
Employer Issues with Commercial Truck Accidents in Wisconsin and Illinois
Commercial employer issues can be a factor in truck accidents. These issues include incidents such as:
Failed safety inspections;

Helping or requiring workers to move illegal cargo;

Forcing drivers to work outside of the FMCSA Hours of Service guidelines;

Insufficient maintenance of tires, brakes, or lights;

Disregarding the worker's federal safety guidelines;

Putting improperly trained or untrained drivers on the road;

Unstable, unsecured, or improperly secured cargo.
The dedicated truck accident attorneys at Alexander J. Smith Law Offices realize the injuries caused by accidents involving oversized commercial trucks are often devastating and life-altering in their severity. We are here to support you and help you get through this painful and upsetting time.
If you or a member of your family has been injured or killed in a Wisconsin or Illinois truck accident, call the truck accident attorneys at Alexander J. Smith Law Offices today to schedule your appointment for a free consultation with one of our qualified attorneys.
Why Choose Alexander J. Smith Law Offices as Your Truck Accident Lawyer?
Truck accident injury cases are often more complex than your average injury claim. Because of the large damages they often involve, insurance companies assign these cases to the toughest, most experienced adjusters and defense counsel. Ensuring a successful outcome to your claim will depend on the knowledge and the skill of the truck accident attorney that you choose to represent you.
Large insurance companies all have the same goal: to increase their profits at all costs. This often includes devaluing your claim or denying it outright even though it is legitimate. The far-reaching legal and financial resources a trucking company has at its disposal offer virtually no chance for a victim to represent themselves to obtain all the compensation to which they are entitled.
If you or a family member has been injured in an accident involving a semi-truck, you need to act quickly to secure the skilled and experienced legal representation you need to make sure that your rights are protected. The truck accident attorneys at Alexander J. Smith Law Offices can give you the results-driven legal representation that you need to win your case today!