Car Accidents Attorney in Illinois and Wisconsin
Car Accidents
The most common type of personal injury claim is the auto accident claim. Common doesn't necessarily translate to simple, however – there are so many permutations that can arise in the context of a motor vehicle accident claim that unless you swim in those waters on a regular basis like an insurance adjuster or car accident lawyer, it can make your head spin. Let our auto accident lawyers make it clear and concise what to do.
Have you been injured in a car accident in Wisconsin or Illinois? Contact Alexander J. Smith Law Offices today!
No one ever wakes up and expects to get injured in a car crash. The fact is, it happens to people every day all over Wisconsin and Illinois. Car crashes are a common occurrence and more than 30,000 people lose their lives each year in car accidents in the U.S. According to the State of Wisconsin Department of Transportation, there were more than 30,000 car accidents in 2018, and 576 fatalities were reported in those accidents. Those are staggering numbers. In Illinois, there were more than 65,000 car accidents in 2018 resulting in more than 950 deaths.
Car accident victims can suffer injuries that will affect them for the remainder of their lives. Many car accident injuries can cause permanent damage that will limit the victim's ability to work or take part in activities that they used to enjoy. If you or your loved one have suffered injuries in an accident in Wisconsin or Illinois and you believe that the accident was caused by the negligence of another driver, you may be entitled to compensation for your injuries.
The knowledgeable and aggressive car accident lawyers at Alexander J. Smith Law Offices can handle even the most complex auto accident claims. We will handle all communications and negotiate your claim from start to finish. In the event that the at-fault party's insurance company does not offer a full and fair settlement, the attorneys at Alexander J. Smith Law Offices are prepared to take the case all the way to trial to ensure you receive the compensation you deserve. Call us today to see how we can assist you with your personal injury claim.
Do Not Speak to the Other Party, Their Attorney, or Insurance Company
The trauma from an automobile accident can be an overwhelming and life-changing experience. Regardless of whether you were in a minor fender bender or a catastrophic truck accident, it is important that you protect your rights and the integrity of your auto accident case from the start. The best way to do that is to lawyer up immediately.
Don't talk to the other party, their attorney, or their insurance company after your accident. Although they may sound friendly, these people are not your friends. In the case of the attorney or insurance company, these are individuals who get paid to minimize the claims of people in your position. If contacted, your response should simply be "speak with my attorney."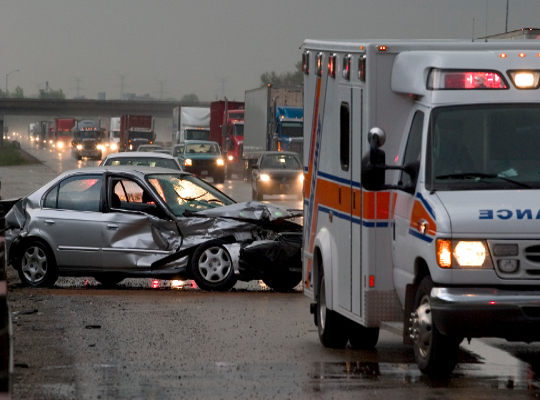 Most of the time, the initial settlement offer made to a party representing his or herself by the at-fault driver's insurance company will be unreasonably low. They count on you not knowing the value of your claim or understanding the claims process and will try to get you to accept their low-ball offer and sign away your rights before you even know the full extent of your injuries. If you accept their low ball settlement offer, your release is final – you will not be able to request additional compensation or file a claim for additional or previously unknown damages down the road.
Another trap injury claimants frequently fall into is they attempt to negotiate their claim on their own, and then hire an attorney when the insurance company refuses to move from their low ball position. By doing this, you have poisoned the well.
Insurance companies value claims differently when an attorney is involved, placing a significantly higher starting value on such claims. Claimants represented by attorneys typically receive 4-5 times as much as those unrepresented. However, if you start negotiating and then get an attorney involved, the insurance company will refuse to re-evaluate your claim based on the new legal representation and will stick with their original, unrepresented valuation. They want you to be unrepresented and vulnerable and will seek to punish you for seeking legal help during the middle of a negotiation. You will likely be forced to litigate the claim to get to a fair value under these circumstances, resulting in years of delay and additional costs, or you can accept their low offer but now you have to pay attorney fees over it. By seeking legal help immediately after your accident, you can avoid this unenviable situation.
If you or a loved one has been injured in a car accident, you need a knowledgeable and aggressive attorney to negotiate on your behalf and protect your rights. The car accident attorneys at Alexander J. Smith Law Offices will fight to ensure you obtain full and fair compensation for your injuries.
Most Common Car Accident Injuries in Wisconsin and Illinois
Car accidents can cause a wide variety of serious injuries. The type of injuries that are sustained in an accident depends on several different factors:
The severity of the collision;

The speed at which the vehicle or vehicles were traveling at the time of impact;

The size of the vehicles involved in the crash;

The type of impact and the force exerted; and

Whether the vehicle's occupants were properly restrained.
Some of the most commonly reported injuries that are sustained in car accidents in Wisconsin and Illinois are as follows:
Lacerations, Abrasions, and Bruising

Internal Organ Injuries

Traumatic Brain Injuries

Chest Injuries

Fractured and Broken Bones

Cardiac Arrest

Lung Collapse

Broken Pelvis

Spinal Cord Injuries

Torn Ligaments

Broken Ribs

Limb Amputation
If you or a family member has recently been injured in an accident that was caused by another driver's negligent actions, you should speak with a skilled car accident lawyer from Alexander J. Smith Law Offices as soon as possible.
Five Most Common Types of Car Accidents in Wisconsin and Illinois
While you might be a careful and conscientious driver, there are plenty of drivers you share the roadways with who are not. There are people who drive under the influence of alcohol or drugs and people who drive while trying to respond to a text message. There are others who use their time behind the wheel to put on their makeup or read the morning paper, and those who drive despite being severely sleep-deprived. Others simply disregard traffic signals or drive too fast.
Here are the five most common types of car accidents in Wisconsin and Illinois:
Head-on Collisions – Head-on collisions are responsible for most accident-related deaths. They occur when one car crashes head-first into the front end of another car or a fixed object. Both drivers and passengers are at risk of sustaining critical injuries because they are facing the point of impact. Some common injuries from these types of accidents are broken bones, concussions, damage to internal organs, traumatic brain injuries, and spinal cord injuries.
Rear-End Collisions – Rear-end collisions are the most common type of car accident. They occur when a driver behind a vehicle is following too closely or not paying attention to the road and is unable to stop in time to avoid hitting the rear of the car in front of them. Texting or looking at a phone's GPS are common causes of these accidents. Rear-end collisions often cause whiplash-type injuries to the neck and back of the victims involved, but can also inflict injuries to the knees, head (including concussion), and shoulders.
T-Bone or Side-Impact Collisions – T-bone accidents usually take place at intersections, specifically when the at-fault driver fails to yield the right-of-way or disregards a stop sign or red light. Rollovers are common when this happens, and can increase the severity of injury to the vehicle occupants.
Lane-Changing Collisions – Drivers who are distracted or who are under the influence oftentimes veer in and out of their lane. This increases their odds of hitting another car on the road or a pedestrian. Drivers may also misjudge the amount of space they have when they are trying to merge, thus colliding with a car in the lane they were merging into. When this happens, loss of vehicle control and subsequent collisions that result can greatly increase the chance of serious injury.
Multi-Vehicle or Chain Reaction Collisions – Multi-vehicle car accidents and chain reaction collisions occur when one or more drivers collide. Severe weather conditions or high speeds are frequently involved. This kind of collision is most common on highways and has the potential to be very dangerous and cause serious injuries. Drivers and passengers can sustain injuries ranging from whiplash and broken bones to severe organ damage, paralysis, or even death.
If you have been injured in a serious accident that you believe was caused by another driver's negligence you may be entitled to compensation for your injuries. You need to speak with a knowledgeable and skilled car accident attorney as soon as possible to protect your rights as an injured victim. Call Alexander J. Smith Law Offices today to schedule a free consultation.
Types of Damages
If you are seriously injured in an accident, the car accident lawyers at Alexander J. Smith Law Offices may be able to file a personal injury claim on your behalf to recover additional compensation for the following:
Economic Damages
Medical Bills

Future Medical Costs

Cost of Prescription Medication

Rehabilitation Costs

Ambulance Bills

Car Repair

Non-Medical in-home services

Lost Wages

Property Damages
Non-Economic Damages in Wisconsin and Illinois
Pain and Suffering

Emotional Pain

Disability

Disfigurement

Permanent Impairment

Loss of Quality and Enjoyment of Life

Loss of Companionship and Spousal Services for Married Couples
Punitive Damages in Car Accident Lawsuits
Your car accident lawyer is only able to secure punitive damages in a claim if the defendant's actions were particularly egregious or malicious. This type of compensation is used to punish a defendant. It is awarded in an effort to deter the defendant as well as other people from committing similar egregious acts. It is, however, very uncommon for the court to award punitive damages in a car accident injury claim.
What if I'm Partially at Fault for an Accident?
Sometimes it is hard to tell who is at fault in an auto accident. According to Wisconsin Statutes Section 895.045, if you are found by a jury to be partly at fault for an accident, your awarded compensation may be decreased. Statute 895.045 refers to personal injury cases as it governs the state's modified comparative fault system.
The comparative fault system allows you to obtain compensation if the at-fault party's percentage of fault is greater than your percentage of fault, although, the compensation you receive will be decreased by the amount of fault you are charged in the accident. Therefore, if you are awarded $10,000, but are found to be 20 percent at fault for the accident, the amount you would actually receive would be $8,000.
Illinois also applies a modified comparative fault system to award compensation. If you are involved in an accident but may be partially at fault, It is imperative that you have an aggressive and experienced Wisconsin or Illinois car accident attorney evaluate your claim to determine if you may be entitled to compensation.
The Bottom Line? Get Help Now!
Auto accident cases can be very complex. The longer you wait, the greater the chance your right to recover could be compromised. If you or someone you love has been injured in a serious car accident and you believe the accident was caused by the negligent actions of another driver, then you may be entitled to compensation for your injuries. Call the skilled and dedicated car accident lawyers at Alexander J. Smith Law Offices today to discuss your accident. We have years of experience and have the time and resources needed to pursue even the most complex and complicated cases in Wisconsin and Illinois. Call us at 608-237-7035 in Wisconsin or 815-243-9686 in Illinois today to schedule a free consultation with one of our skilled personal injury lawyers.